Grapefruit Mint Vodka Fizz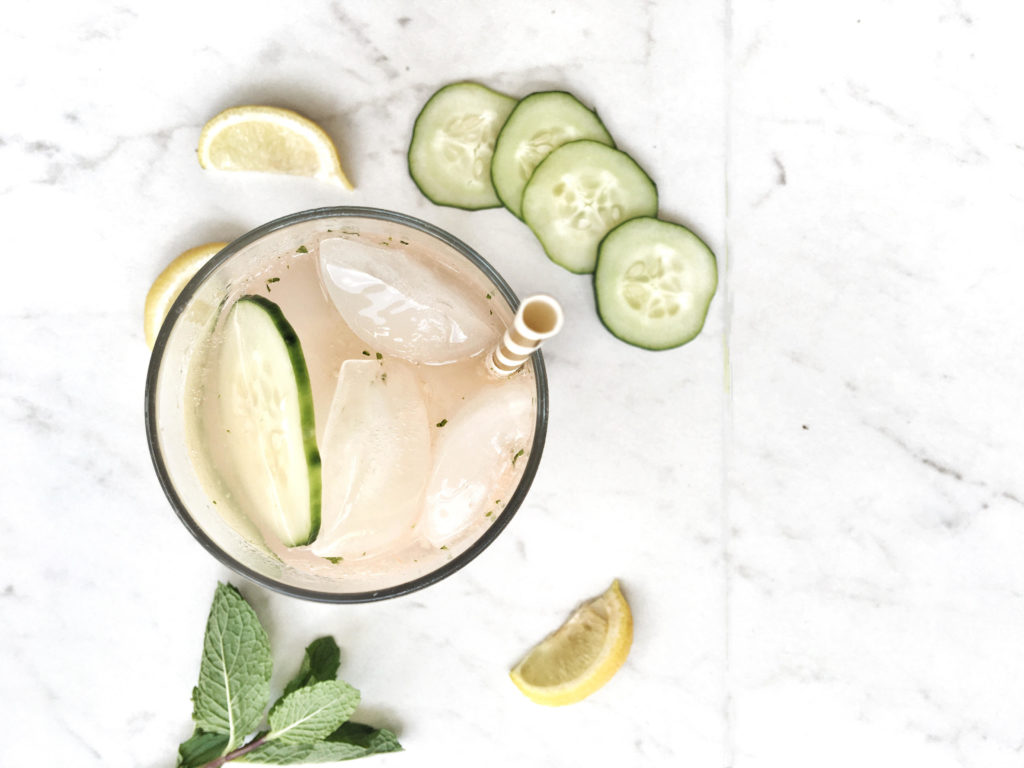 SHOCKING NEWS: I love cocktails.
But you know what I don't like? Cocktail menus with shit on it I've never heard of or things like egg whites. No I don't want an EGG in my cocktail, I don't care how classic or cool it is. And you know what really drives me nuts?
Having to Google an ingredient.
I realize this makes me sound like an absolute loser and VERY low brow. That's fine.
And yes, I AM in the process of opening a bar that WILL serve classic cocktails and yes, Andy WILL kill me if I keep screwing with the menu trying to make everything "skinny" but I'm just trying to drink something that tastes good, something that I could preferably drink 3 of so I can get a nice buzz and that isn't going to totally screw up my blood sugar.
OMG IS THAT SO HARD.
I AM #HEALTH.
I have been madly in love with this cocktail at an ATL seafood restaurant, Six Feet Under, for YEARS. It's called a Pushin' Up Daisies and it's made with Deep Eddy's Ruby Red Grapefruit vodka, basil, lime, club soda, simple syrup, and cucumber ice cubes.
I, of course, ask for no simple syrup :):) (totally unnecessary!)
And lemons instead of lime......(it's better that way, sorry)
And sometimes I like mint in it instead of basil.
Ok, so every bartender wants to punch me in the face. Sue me!
I sort of recreated it at home, and you guys need to get in on this.
They're made with REAL fruit juice, not artificial flavors.
It's a high-quality vodka so less of a chance of a hangover.
It's affordable.
Vodka with nasty artificial flavors is just GROSS. The only caveat to this is that their Grapefruit vodka, for example, has 7 g carbs/oz. But this is again because it contains ACTUAL grapefruit juice. I'd rather have a little bit of sugar from fruit than nasty chemicals in my body.
And this is also why it's totally unnecessary to add more sugar. We're adding a little lemon juice, fresh cucumbers, and mint (basil is also REALLY GOOD!) - that's it!
This will honestly become your cocktail of the summer.
ALSO - I have an NA alcohol guide. YOU'RE WELCOME.
Tonight I'm actually recipe testing a skinny WHISKEY cocktail for an event this weekend, so I'll be sure to post that soon. I'm super excited about it - I don't normally recommend whiskey, but I like this one and I'll tell you why.
xxMeganxx
---So many good tips for getting your drink on without totally screwing with your #bodygoals here.
---But also, THIS coconut-blueberry summer cocktail is a must.